Free initial consultation

The Law Firm of Cyrus F. Rea II, P.C.
110 Broadway, Suite 560
San Antonio, Texas 78205
(210) 223-9700 - Telephone
(210) 223-9708 - Fax
firm@cyrusrealawfirm.com

Cyrus F. Rea II
A relentless advocate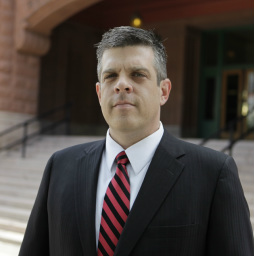 Cyrus F. Rea II is a trial attorney who represents clients in civil litigation, including business torts, contract disputes, labor issues, family law, and complex commercial litigation matters in the construction and financial fields.


EDUCATION
Stanford Law School, J.D. 1996
University of Missouri, B.A. (summa cum laude) 1993

PROFESSIONAL AFFILIATIONS
Admitted, Texas State Bar
Admitted, U.S. Court of Appeals, Fifth Circuit
Admitted, U.S. District Court for the Western District of Texas
Admitted, U.S. District Court for the Eastern District of Texas
Admitted, U.S. District Court for the Southern District of Texas
Texas Bar Association, Member
San Antonio Bar Association, Member
San Antonio Young Lawyers Association, Vice President (2001-2002), Secretary (2002-2003)
Texas Continuing Legal Education Distinguished Faculty
Production Editor and Charter Member, Stanford Journal of Law, Business and Finance (1993-96).

LITIGATION EXPERIENCE
During his practice, Mr. Rea has represented a wide variety of clients in the State and Federal courts of Texas. His practice focuses primarily on representing San Antonio families and small business. Over the years, however, Mr. Rea has represented clients in trademark and patent disputes, personal injury defense, mass-tort defense, white-collar criminal defense, wrongful death claims, insurance litigation, and employment matters. He has tried cases before juries to favorable verdicts in both State and Federal courts and has been involved in dozens of mediations. He has also represented clients before the Federal and State Courts of Appeals.

Mr. Rea's is a familiar face in the courtrooms of Bexar County and the surrounding area. For this reason, he has often served as local counsel for firms unfamiliar with the peculiarities of the South Texas judicial system.

Mr. Rea has previously practiced in the Houston office of Baker & Botts, LLP and in the San Antonio offices of Jenkens & Gilchrist, P.C. and Strasburger & Price, LLC.

PERSONAL
Mr. Rea was born and raised in Branson, Missouri. He is married and has three lovely children.
---